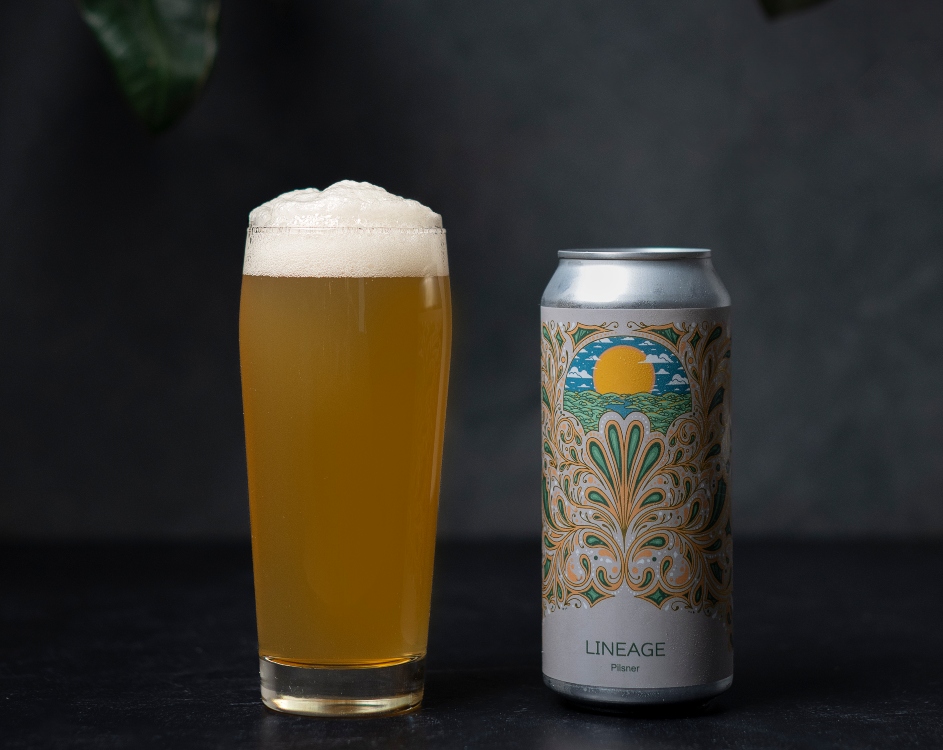 Lineage: a Hawksmoor x Hudson Valley Brewery Pilsner
We've teamed up with New York brewery, Hudson Valley Brewery, to create Hawksmoor NYC's first ever beer. "Lineage" is named after the amazing building that's home to our restaurant – the Assembly Hall at the United Charities Building.
The beer is dry hopped with Fuggle (an old English hop variety) and Motueka (a new world style hop from New Zealand). A small proportion of the beer is lagered in oak barrels and then blended in with the rest of the beer. And, in classic Hawksmoor fashion, the whole thing is finished with a touch of Maldon sea salt.
We sat down with Jason Synan, owner of Hudson Valley Brewery, as well as our Bar Manager, Adam Montgomerie, to get a closer look at the inspiration, development, and creation of this beer.
What was the inspiration behind the flavor profile with this beer?
JS: We like our Pilsner beer to lean toward the simple and quenching side of the spectrum — and while our collaboration with Hawksmoor definitely maintains that, we wanted to add a bit of depth and maturity to the liquid so that it may stand up to a variety of their menu offerings, as well as incorporate some ingredients that are true to the character and vision of their team.
AM: Lager is one of our most popular beers – it's balanced and isn't overwhelmingly heavy which is ideal to pair with several of our food offerings and is the perfect style – especially as we head into the summertime.
How long did it take to create the beer? What was the development process like?
AM: Just a few months actually; we were quite clear on what we were looking for and Hudson Valley was a brilliant partner to collaborate with.
JS: From beginning to end, Lineage took a little over 3 months to make. While the base beer was conditioning in our Lager tank, we worked together to develop the concept, packaging design, and decide on finishing touches.
Approaching completion, we took samples of the beer to Hawksmoor — steeping different hops and accent ingredients in the glass, looking to find a combination that spoke to our collective taste.
We knew that we wanted to blend in a small proportion of barrel-aged Lager to achieve a sense of roundness and depth of character, and thought that a little sprinkle of Maldon sea salt would provide a bright, invigorating counterpoint to that.
For the hops, we went with Motueka — a New Zealand variety known for its delightful flavor and aroma of citrus and stone fruits. Lastly, we added a bit of Fuggle — a classic English variety with delicate herbal / botanical notes.
What led to the design of the graphics on the can? The name of the beer?
JS: Visiting with the team at Hawksmoor in NYC, we were struck by the wondrous, grand atmosphere in the main dining room (known as The Assembly Hall) — with its nearly-30-foot vaulted ceiling, stained glass, and intricately designed molding around the archways, which had not been viewed by the public for nearly 100 years before the folks at Hawksmoor endeavored to restore it.
We wanted the name & label design for the collaboration to evoke a similar sense of wonder and reverence for things past, and the artwork done by Evan M Cohen, is an expression of that.
How would you describe the beer?
AM: A crisp and refreshing Pilsner with a little extra going on from the lagering in oak and the hop selections! Everything about this beer was thought through meticulously – from the design on the label to the addition of Maldon sea salt. Here at Hawksmoor we believe the perfect ratio for a dry martini is 7:1 (gin:vermouth). We took that same philosophy with this beer by using 7:1 (regular pilsner: 1 oaked pilsner). The devil's in the details, eh?
What items on our menu would you suggest pairing with the beer?
AM: This beer would go well with many of our offerings, especially the dry-aged, charcoal-grilled steak. My personal pairing would be the Hawksmoor Cheeseburger (and a side of Beef fat fries).
Categories: News