About Us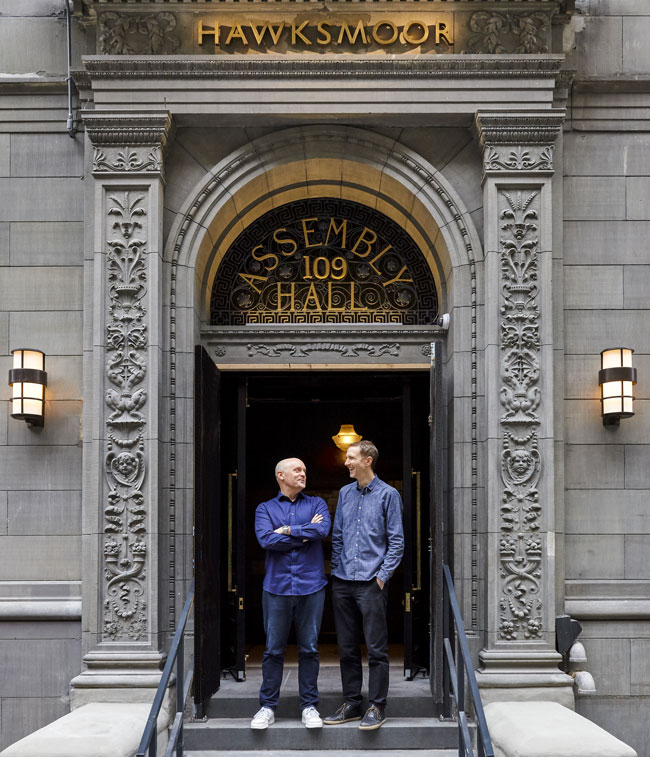 From farming and food-obsessed families, founders and childhood friends, Will & Huw, opened the first Hawksmoor in East London in 2006. They had a simple three-fold goal: find the best possible beef; master the simple-seeming art of cooking the perfect steak; and create an environment where everyone, guests and staff, could relax and enjoy themselves.
'Buy the best and let it shine' became a mantra for Hawksmoor, for everything from all-natural beef to sustainable seafood, and small-farm produce to farmstead cheeses. For the past seven years we've criss-crossed the US meeting and getting to know like-minded farmers, ranchers, fishermen and makers, with many of those we're now partnering with based on the north-eastern seaboard.  
In the UK Hawksmoor has developed a reputation as much for its integrity as its food, drink and beautiful dining rooms. Award-winning employment practices mean that we're fortunate to have a company full of people who not only give their best but are also able to bring their full personalities to work, and in turn make our guests feel relaxed and happy. That's part of the reason why our team wear their own clothes and we have no dress code in our restaurants.
We put a lot of care and attention into everything we do. Whether you're visiting for a few cocktails or a burger at the bar, or a blow-out meal to celebrate a special occasion, we want Hawksmoor to become a favorite for a wide range of different people.
And it can't hurt that we're in what we think is the most beautiful room in New York.