About Us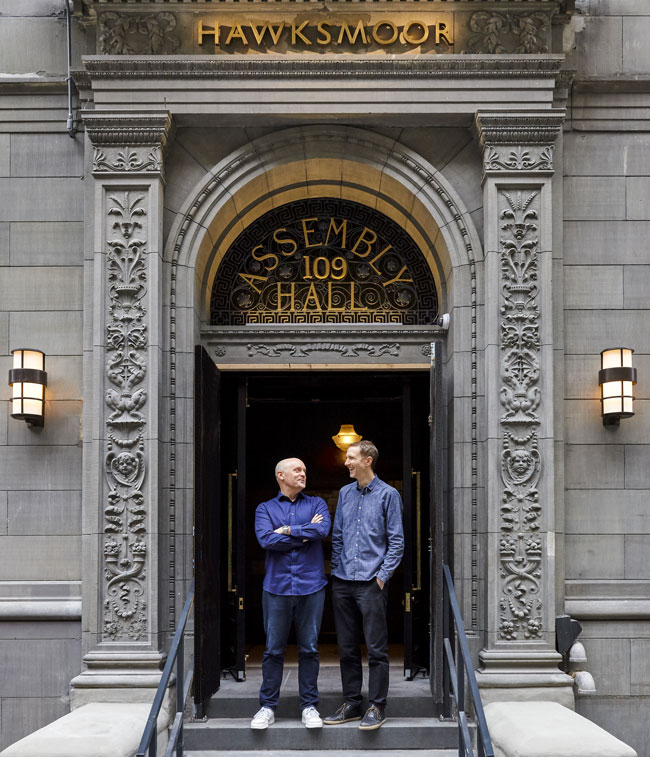 We (Will & Huw) first opened Hawksmoor in London in 2006. We'd been best friends since we were 11 years old, having grown up in food-obsessed families two roads apart. Our goal was simple: find the best possible beef, cook it simply over real charcoal and make sure the restaurant was a place where everyone could relax and enjoy themselves.
'Buy the best and let it shine' has become a mantra for us, and getting to know like-minded farmers and producers in America over almost a decade has been one of the greatest joys of opening Hawksmoor in New York City.
You can't have aspirations to be amongst the best steak restaurants in New York without exceptional suppliers and amazing staff. We've been lucky that people have loved the restaurants enough to allow Hawksmoor to grow into a restaurant group that has managed to earn a reputation not just for the steak, cocktails and beautiful dining rooms, but for being a good employer. We are fortunate to have a company full of people who not only give their best, but are also able to relax and enjoy themselves at work.
"We should tell you that never in our wildest dreams had we contemplated opening a restaurant in New York, but that would be a lie. A very precise lie in fact because that was exactly what our wildest dreams looked like. Every time we'd been to New York there would be a hushed conversation, out of earshot of anyone who hadn't been in our gang-of-two since 1988 …
'Can you imagine?'"
Hawksmoor: Restaurants & Recipes, 2017