Desserts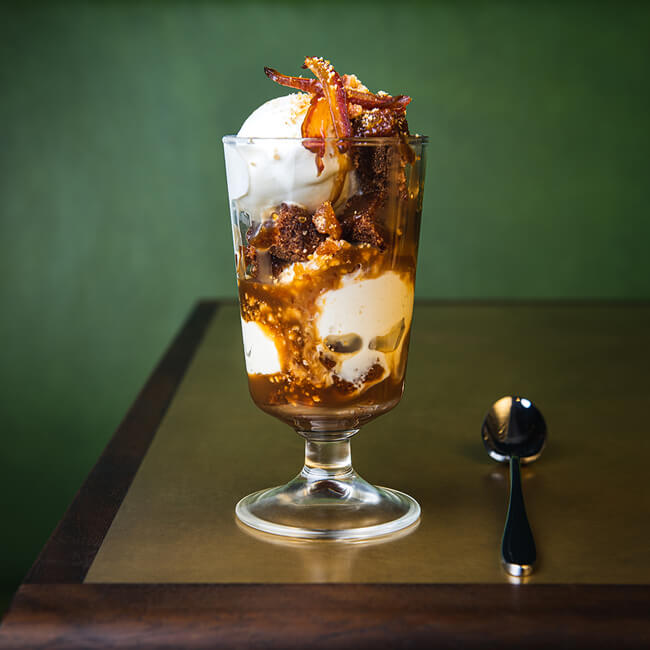 Please note this is a sample menu and subject to change.
Desserts
Grand Rocher18
A decadent chocolate and hazelnut homage to that classic gold foiled treat.
50c from every one we serve goes to Action Against Hunger to support their important work around the city.
Maple Custard Tart12
maple & crème fraîche ice cream, pecan praline
Meyer Lemon Meringue Bomb12
lemon-ripple ice cream
Sticky Toffee Pudding12
milk ice cream
Peanut Butter Louis14
Our take on the eponymous dessert at the ultra-lux 3 Michelin starred Le Louis XV in Monte Carlo.
Because everything is better with peanut butter. Also starring Original Beans milk chocolate and salted caramel ice cream.
Tributes
Salted Caramel, Passion Fruit, Bourbon & Pecan12
Our tribute to a childhood favorite that for trademark reasons we can only tell you are not Polos but might rhyme with them
A box of eight to take away20
Cheese
A selection of American farmhouse cheeses24
cheese rye crackers, fruit bread & oat biscuits
Ice Cream & Sorbet
Citrus & Passion Fruit Sundae8
grapefruit, mandarin, passion fruit
Sticky Toffee Sundae12
milk ice cream, sticky toffee sponge, caramel sauce
Ice Cream Sandwiches10
Marmalade & bourbon / mascarpone & pecan
Scoops
Ice cream6 each
Lemon-ripple / Maple & crème fraîche / Milk
Sorbet6 each
Lime / Fig / Green apple